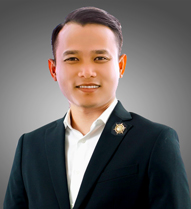 Mr. Luong Trung Tinh
Chief Commercial Officer
From 2016 - 2017, he worked at the Business Development Department at Savings Delivery Joint Stock Company (Giao Hang Tiet Kiem), reaping many impressive achievements, for many consecutive months, he was the salesman with the highest sales and the title Best Salesman Of The Year.
End of 2017 - 2019, he held the position of Sales Manager of Savings Delivery Company and received the certificate of merit for Best Sales Manager for 2 consecutive years.
In 2020, he was the Sales Director of J&T Express Vietnam Company - HCMC area. At this company, he had successful business strategies, which helped J&T Express Vietnam in the HCMC area increase revenue by 400% after only 2 months.
End of 2020 - early 2021, he became the Sales Director of Tin Toc Joint Stock Company, responsible for developing the project of transferring OMS technology to partners in the same industry, for instance Saigon Ship, Best Delivery, Loyal Express, HQ Express, etc.
In 06/2021, he joined Nhat Tin Express with the position of Chief Commercial Officer. With a wealth of experience, he wishes to develop the business team, achieve the highest revenue target and accelerate the growth rate of Nhat Tin Express.