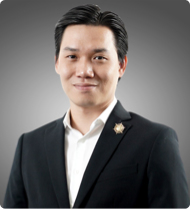 Mr. Dang Quoc Tuan
Deputy CEO
From 2010 - 2012, he held the position of Area Manager at District 4 Centre, under Viettel Military Industry and Telecoms Group. The opportunity to work in the multi-tasking environment of Viettel has enabled him to develop many activities and keep the Centre always on the list of excellence in the HCMC Branch.
From 2012 - 2014, he was Deputy Head of Southern Investment Department of MB Real Estate Company. At this company, he and the Board of Management have successfully implemented 4 projects, contributing to shaping MB's participation in the real estate market.
From 2014 - 2017, he held the position of Investment Specialist & Head of Aircraft Leasing of a private airline. Mr. Tuan succeeded in helping the company become the first company to bring foreign private aircraft to exploit under the name Vietnamese Operator.
From 2018 - 2020, he decided to join Nhat Tin Logistics, becoming an Analyst & Assistant to the Chairman of the Board.
End of 2020, he was appointed as Deputy General Director of Nhat Tin Express - a freight company providing B2C, D2C, and fulfillment services nationwide. He aims to build and develop Nhat Tin Express to become the top company in E-commerce delivery in Vietnam.