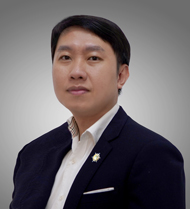 Mr. Phan Ba Vu
Chief Project Officer

From 2012 - 2017, he was the Director of Logistics Division of iCare Benefits Vietnam Co., Ltd., responsible for service quality in 4 main areas: construction of iCare centres, warehousing, delivery, and after-sales.
From 2017 - 2018, he held the position of Director of Retail Distribution - Mobifone Telecommunication Group. By understanding the domestic market, he runs the entire retail and distribution business of mobile devices. In particular, he achieved many successes with a business plan in the form of equipment with packages according to the shop-in-shop model.
From 2018 - 2019, he was trusted to hold the position of Director of E-commerce Company on voso.vn floor, under Viettel Post Corporation. He has made active contributions to the development of voso.vn E-commerce floor business: promoting trading on Voso Mall website, customer development and successfully building an effective agricultural product purchasing policy, reducing the cost of agricultural products, and reducing intermediate distribution from growers to customers.
In 2020, he joined Nhat Tin Express as Chief Project Officer. With nearly 10 years of experience in business development, he hopes to build and expand a nationwide business network and help Nhat Tin Express reach the top E-commerce shipping company in 2023.